At CBA, we believe that your banking experience should leave you relaxed, not wound up. It should simplify your life, not complicate it.


And if you bank at CBA - that's exactly what you'll get. Relaxed, hassle-free banking. Commercial Bank of Africa Limited (CBA) was founded in 1962 in Dar-es-Salaam, Tanzania and quickly established branches in Nairobi and Mombasa in Kenya, and also in Kampala, Uganda. With the nationalisation of banks in Tanzania, CBA reincorporated itself in Kenya in 1967. In light of developments in Uganda in 1971, it subsequently sold the Kampala branch. - Welcome to stress-free banking. For details kindly visit http://www.cba.co.tz


Kenya Airways: Experience Kenya Airways wide-open space to Africa www.kenya-airways.com


Flying Kenya Airways from Europe to Nairobi and onwards throughout our Africa, Asia and Middle East network has never been easier with a choice of departure or connection points out of either London, Amsterdam and Paris.

You can fly direct from Terminal 4 London-Heathrow or use our partner KLM from over 12 UK regional airports via Amsterdam earning Flying Blue Miles all the way. Experience our world-class service before you fly by enjoying our first class lounges at Heathrow and Nairobi offering a relaxing environment with a range of modern business facilities.

Kenya Airways offers passengers more personal space on board our Boeing 777 between Europe and Africa. The exclusive Premier World cabin offers 28 flat beds, with mood lighting programmed to simulate the various cycles of the day from sunrise to sunset so you arrive at your destination totally refreshed.

Our economy class offers 294 seats in a generous 3-3-3 configuration with a 32" seat pitch, which delivers more legroom in a spacious, larger and quieter cabin. There is more headroom and wider seats with adjustable head supports and increased overhead storage.

During the flight experience our popular in-flight entertainment system AVOD (audio visual on demand) offering more personal control and featuring a unique choice of entertainment options. Or you can use our convenient in-seat laptop power points to catch up on some office work.

Kenya Airways operates the most modern and spacious aircraft to fly the African Skies. We look forward to welcoming you on-board soon and enjoying our warm African hospitality.To view Kenya Airways destinations kindly
http://www.kenya-airways.com/home

Postal Bank Tanzania

As part of the Financial Sector Reform Programme, Tanzania Postal Bank (TPB) was established by the Tanzania Postal Bank Act No.11/1991 as amended by Act No.12 of 1992. This bank became operational as a separate entity from the then Tanzania Posts and Telecommunications Corporation (TP&TC) from 1st March 1992 with its own Board of Directors and Management. It was established as a successor to the Tanganyika Post Office Savings Bank (TPOSB), which was established by the Post Office Savings Bank Ordinance of 1925 and became operational in 1927.
Uhuru Card is a debit card issued by Tanzania Postal Bank that is a wallet sized plastic card with a magnetic stripe used in processing payment directly from the account at Point of Sale device (POS) or Automated Teller Machine (ATM) with TanPay Speed Cash Logo.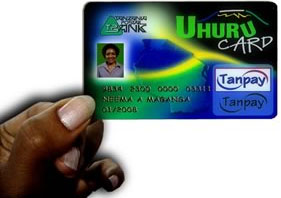 Feature
Issued to account holders


It can be used at Point of Sale device (POS) or Automated Teller Machine (ATM) with TanPay Speed Cash Logo


It can be used as a means of payment for purchases


Does not need to load money into a card as it directly access the account holder.
Feature
It provides you with fast, flexible and easier banking facilities.


Gives you choices of making payments or withdrawal from merchant POS or ATM


You can obtain cash 24 hours/ 7 days a week.


You can purchase mobile phones re-charge vouchers from the Uhuru Card/ TanPay service provider or ATM.



Uhuru Card helps you to control your budget within limits.


Allow you to get balance and mini statement through ATM


It is a PIN controlled card that restricts unauthorized usage


It is convenient to handle.


It can be used in all locations/ outlets/ ATM's with TanPay Speed Cash Logo.


You have instant access to your account therefore you don't need to load money into your card.


You can use your Uhuru Card at all Tanzania Postal Banks ATMs as well as at the ATMs of other banks that have TanPay Speed Cash ATM.


You can obtain cash from selected merchant Locations*



Every transaction is printed on your bank statement, so you can keep track of your spending


You don't have to carry cash.


You can shop safely and conveniently at merchant outlets in Tanzania, where the TanPay sign is displayed.


You can withdraw money from any ATM wherever TanPay Speed Cash Logo is displayed.


You cannot spend more than you have in your account, so you are never in debt.
For details kindly visit us
http://www.postalbank.co.tz

Western Union helps you provide for your loved ones almost anywhere in the world. Whether it's for education, healthcare or groceries, we offer Consumer-to-Consumer Money-Transfer Services to get resources to members of your family quickly
For details kindly
Click Here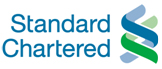 STANDARD CHARTERED BANK TANZANIA LIMITED
Standard Chartered Bank's history dates back to 1853. The Bank started in Port Elizabeth in South Africa. Since then, Standard Chartered Bank has expanded into more than 70 countries in Africa, the Middle East, Asia Pacific, South Asia, the United Kingdom, and the Americas. It has more than 1,400 branches in these regions and employs more than 70,000 people, representing some 100 nationalities. In 2003, the Bank celebrated its 150 years of operations Groupwide.
In Tanzania, the Bank has been in existence since 1917 when it first opened its doors. The Bank was nationalized in 1967, but re-opened on 15th September, 1992. Today, the Bank has seven Branches of which four are in Dar es Salaam, and one each in Moshi, Arusha and Mwanza. We employ over 350 staff in Tanzania.
Standard Chartered Bank has three business divisions – Consumer Banking, Origination and Client Coverage and Financial Markets. The Bank offers innovative products and services that have been tailored for the Tanzanian market. We have led the way in the banking industry by being the first to introduce a number of products and services into Tanzania. These include: The Young Supersavers Account for children under 18; "Excel" personalized banking services; Executive Accounts; the Visa Electron Debit Cards; High-Yield Deposits; the Diva Account and other Corporate and Global Markets products. Standard Chartered Bank also offers Internet Services for Corporate Customers.
Our areas of focus are the Agricultural, Trading and Manufacturing sector. We also support Small and Medium Enterprises (SMEs), which drive the economic growth of the country
At Standard Chartered Bank, we pride ourselves on a high level of customer service provided by enthusiastic staff members. Our Staff have been the driving force of our success. The Bank undertakes programmes to provide staff with the necessary knowledge and skills they need to cater for our esteemed customers.
The Bank also places a great deal of emphasis on Sustainability. Standard Chartered Bank takes care of the environment and the communities in which we operate focusing on the areas of Youth, Health and Education. We have engaged ourselves in various Community projects, which are geared towards the development of the country. Since 2002 Standard Chartered Bank Tanzania Limited has donated more than USD 600,000 to various community initiatives.
We have donated towards Children's Homes, and Water and Irrigation projects in different regions of the country. Through its commitment to the community, the Bank has benefited thousands of people in Tanzania. The Bank is also at the forefront of combating the HIV/AIDS pandemic. Last year, Standard Chartered Bank Tanzania Limited hosted a HIV/AIDS workshop for its SME customers. In addition to observing a Group-wide HIV/AIDS Day, whereby staff are sensitised about the pandemic, The Bank in Tanzania has also donated over USD 10,000 towards a fish-farming project to provide alternative sources of funds for ex-commercial sex workers at the Mererani mines in Arusha, thus reducing the spread of HIV/ AIDS.
What next?
In our more than 10 years of building our presence in Tanzania, Standard Chartered Bank is very enthusiastic about the potential of this peaceful country. Standard Chartered Bank is committed to Tanzania and will continue supporting on-going reforms for growth and poverty reduction.
Although we have been around for more than 150 years, The Bank is still young and even more energized to provide the best products and services to our customers.