---
Events

a.. 3rd Presidential Strategic Leadership and Governance Retreat-pslg3:07th-13th June 2009, London,United Kingdom

b.. ABEN, Trade & Investments in Africa, 13 June 2009, Bonn, Germany

c.. The Agribusiness Forum 2009 14th -17th of June Cape Town, South Africa

CBC-CARICOM Ministers Summit, 15-16 June 2009,Bridgetown, Barbados

d.. Cameroon Investment Forum 2009, 16-18 June 2009,Yaounde, Cameroon

e.. West & Central Africa Com, 17-18 June 2009, Abuja, Nigeria

f.. 2009 African Cultural Heritage Awards, 26th June 09, Washington DC, USA

g.. Africa Business Forum 2009, 6- 7th July 2009,London, United Kingdom

h.. Nigeria International Food Summit, 21-22nd July 2009, Ibadan, Oyo State, Nigeria

i.. II International Conference and Exhibition of Development Cooperation, Dakar, Senegal 29th June -1st July 2009

j.. Nigerian British Chamber of Commerce- United Kingdom 2nd July 09, London United Kingdom

k.. Africa Energy Week: July 7-9. 2009, Cape Town, South Africa

l.. Health Conference: 12-14th July 2009 Nairobi, Kenya

m.. Women in Africa and the African Diaspora's Fourth Annual International Conference, 3-8 August, Abuja, Nigeria

n.. ROI and Evaluation of Learning and Development: 17-18th August 09, Johannesburg, South Africa

o.. Agribusiness Forum 2009, August 27-28, 2009, Tel Aviv, Israel

p.. Africa Investment Forum 2009, 21-22 September 2009 ,Midrand, Gauteng, South Africa
Products and Services

a.. Imperial Leadership Academy www.imperialleadershipacademy.com

b.. www.icilome.com

c.. www.souslemanguier.com

d.. www.tumapesanyumbani.com

e.. EC-UN Joint Migration and Development Initiative www.migration4development.org

f.. Job Opportunities in Africa www.findajobinafrica.com
EVENTS
3rd Presidential Strategic Leadership and Governance Retreat-pslg3

Theme: Governance in times of Global Economic Crisis

London School of Economics and Political Science (BOX)

Houghton Street, WC2A 2AE, London, 7th – 13th June 2009

We are most pleased to inform you that all is ready for the conduct of the 3rd closed session of the PSLG3 and to receive all invited delegates at the LSE. PSLG3 is open to only invited African Leaders who have excelled in public/legislative governance – whose accomplishments are of worldwide reference interest, and African Academics in Diaspora, who would facilitate the conduct of the PSLG3.

For directions to the London School of Economics (BOX), you may get in touch with Laura Pipe, venue Coordinator and event services, LSE, Telephone: +44(0) 2071075315 Email: box@lse.ac.uk Fax: +44(0) 2079556272
ABEN, Trade & Investments in Africa , 13 June 2009 , Bonn , Germany

The African Business and Entrepreneurs Network (ABEN) is an excellent opportunity for Professionals, Investors, businesses, Entrepreneurs and students to network, secure exposure and gain insight in business and investment opportunities in Africa and Europe. For more information visit www.aben.ayf.de, kindly contact

coordination@ayf.de Ms. Kenida Brown: aben@ayf.de
The Agribusiness Forum 2009 14th /17th of June Cape Town, South Africa

EMRC is proud to announce the AgriBusiness Forum 2009, an expanded version of our fruitful previous forums.

This year's event has been organized in partnership with:
a.. The South African Ministry of Agriculture,

b.. The Agricultural Business Chamber of South Africa,

c.. The Food and Agriculture Organisation of the United Nations (FAO)

d.. Rabobank

The event will take place from the 14-17 June 2009 at the Lord Charles Hotel in Cape Town, South Africa. Registration for this event is still open, although places are limited. www.emrc.be
CBC-CARICOM Ministers Summit 15-16 June 2009, Bridgetown, Barbados

CBC-CARICOM Ministers Summit on "Strengthening Healthcare Delivery in the Caribbean: The Role of Infrastructure, eHealth and Clinical Management"

The Summit will identify the opportunities and challenges for delivering effective healthcare in the Caribbean region, drawing on practical solutions through strengthened healthcare infrastructure, eHealth and clinical management. Participants will include Ministers and senior officials from ministries of Health and Information Technology, representatives from the private sector, NGOs and relevant national, regional and international agencies.

If you require any further information, please contact Nicole Nwasike at Nicole.Nwasike@cbcglobal.org or on (44) 207 024 8208.
Cameroon Investment Forum 2009, 16-18 June 2009,Yaounde, Cameroon

The 3rd Investment Forum is aimed at global business leaders from Europe, USA and Asia; and will be of particular interest to those looking for profitable investment opportunities in a stable environment rich in mineral, natural and human resources. High-level speakers and panellists will include Heads of Government, Ministers of Finance, Ministers of Trade and Development, Chairs and Chief Executives of business, investment fund managers and other industry leaders. Government Ministers will give keynote addresses in all the core areas of future investment for Cameroon. In addition, private sector Company Directors, Investment Authorities, Chambers of Commerce and other senior business leaders will also speak on future investment opportunities. The agenda will be developed with input from national and international business leaders, donors and investors and will provide an opportunity to report on progress and map out investment priorities of Cameroon.

If you require any further information, please contact Suraya Farah at suraya.farah@cbcglobal.org or 44(0) 20 7024 8250
West & Central Africa Com, 17-18 June 2009, Abuja, Nigeria, West & Central Africa's Premier Event

Join 1,500+ telecoms decision makers at West & Central Africa's ONLY communications Congress & Exhibition. A panel of 50+ visionary speakers including 20+ CxO level operators will lead a 2 day strategic conference featuring 5 streams and 4 keynote sessions while 80+ leading international vendors showcase their solutions in the co-located exhibition.

Register your FREE pass today at www.comworldseries.com/wcafrica/evp
2009 African Cultural Heritage Awards Friday, June 26, 2009 from 6:30 pm

Embassy of the Federal Republic of Nigeria, 3519 International Court, N.W.

Washington, DC 20008, USA

Featuring all-inclusive cultural shows, African beer & wine, silent auction, African music and light African cuisine, while highlighting the contributions of African immigrants as a key component of America's democratic and cultural fabric.

Donations – $25 flat (Kids Free) Tickets must be purchased in advance.

Proceed will support 100% of our Rwanda University Book Initiative and other projects. Sponsorship & advertisements opportunities are welcomed – please call 202-714-5921.

Click here for Tickets v RSVP to 2009ACHevent@african-pac.org

Please visit our website www.african-pac.org
Nigerian British Chamber of Commerce- United Kingdom 2nd July 09, London United Kingdom, 2nd July 2009, Royal Overseas League, Park Place – St James - Piccadilly

Target Sectors under review:

a.. Banking and Finance

b.. Infrastructure

c.. Telecommunication

Speakers include:

a.. Federal Ministries,

b.. African Development Bank

c.. Nigerian Business leaders

d.. UK Business leaders and professional experts

This is the annual opportunity to meet and hear Nigerian Federal and State Ministers, Nigerian and UK business leaders, exchange views and compare notes with members of the NBCC business delegation to the UK. Nigeria's seven- point agenda for national growth is the platform for economic development - the route map for even better Nigerian - British business.

Reserve your place now by contacting

NBCC- UK Network

Suite 7 – Museum House

25 Museum Street

London WC1A 1PL

E-mail: opportunity.nigeria@pielleconsulting.com

Website: www.opportunitynigeria.com
II International Conference and Exhibition of Development Cooperation

Dakar, Senegal 29th June -1st July 2009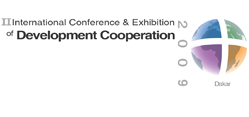 This conference will serve as a gathering place for NGOs, cooperation and development institutions, United Nations agencies, aid-receiving African countries, and firms that contribute equipment for cooperation, development, humanitarian aid projects and emergencies, so they can present their activities and exchange experiences. On the other side the conference will be a point of reflection on the development problems, especially in the African continent. Through conferences, roundtable talks and showcases there will be an opportunity to debate cooperation and development subjects.

For more information, contact Juan Carlos Collado, co-general director, at jcarlos.collado@ceet.es or visit http://www.developmentcooperationdakar.org/inicio_ing.html.
Africa Business Forum 2009, July 06 to July 07, 2009 London, United Kingdom

To register for this event and receive an early bird discount, Please Click Here

The Africa Business Forum 2009 will be held in London on 6th -7th July prior to the 35th G8 Summit in Italy. Paul Skinner, Chairman of Rio Tinto and the Commonwealth Business Council (CBC) will chair the event.

This annual event enables business and government leaders to jointly assess progress in promoting growth and development in Africa, and take steps to meet emerging challenges.

The central theme of the 2009 Forum will be Sustaining Growth in the New Global Environment and will address how business and government can best address the challenge of sustaining growth in the new global economic environment. The Forum will focus on the practical partnerships which business is taking on job creation, enterprise, trade, investment and good governance across the continent, and discuss how we can strengthen capital flows and trade. The results of the Forum will be communicated to the G8.

If you require any further information, please contact Suraya Farah at suraya.farah@cbcglobal.org or 44(0) 20 7024 8250

CBC Members are entitled to 1 free place and subsequent at a 50% discount, for more information please contact Nicole Nwasike Nicole.Nwasike@cbcglobal.org
AFRICA OIL & GAS - NEW DEVELOPMENTS, MAJOR PROJECTS, INNOVATIONS!

AFRICA ENERGY WEEK Cape Town, South Africa. July 7-9. 2009.

The conference focus is upstream oil and gas and will address key areas of investment for governments, NOCs and IOCs.

a.. International Exhibition

b.. Strategic Conference

c.. Energy, Environment & Economic Forum

d.. Gala Dinner

Tough economic climate? Seize the myriad of opportunities in Africa!

Come and hear the future plans from the following well-respected industry professionals:

a.. H.E. Dr Shokri Ghanem, Chairman, National Oil Corporation Libya

b.. H.E. Gabriel. M. Obiang Lima, Vice-Minister Mines, Industry and Energy, Equatorial Guinea

c.. H.E. Mahamat Nasser Hassane, Minister of Petroleum, Chad

d.. H.E. Kiraitu Murungi, Minister for Energy, Kenya

e.. H.E. Salvador Namburete, Minister of Energy, Mozambique

f.. H.E. Erkki Nghimtina, Minister of Mines and Energy, Namibia

g.. Paolo Scaroni, Chief Executive, Eni S.p.A.

h.. Levi Ajuonuma, General Manager, Group Public Affairs, NNPC

i.. Juan Antonio Ndong Ondo, Director General, Sonagas

j.. Yona Killagane, Managing Director, Tanzania Petroleum Development Corporation

k.. Hussein ElHag, Director, AFREC

l.. Tim O'Hanlon, Vice President African Business, Tullow Oil

Numbers are strictly limited. To ensure your attendance at Africa Energy Week book online or contact Mark Kundu on +44 20 7978 0015 or mkundu@thecwcgroup.com
Nigeria International Food Summit, 21- 22nd July, 2009 Ibadan, Oyo State, Nigeria

Driving Nigeria towards Food Self-Sufficiency

The Summit will be an essential forum for all those who wish to see Nigeria as a self-sufficient food producing nation, with a thriving, internationally renowned, food and farming industry. The food crisis has highlighted the importance of food production and at a time when oil revenues have collapsed Nigeria must seize this opportunity to modernise and reinvigorate her agricultural industries. Nigeria remains a predominately agrarian society, with 60% of the population engaged in agriculture and yet it only accounts for a third of national GDP and 2% of foreign exports. Furthermore Nigeria is a net importer of food, including staples such as rice where it produces just 500,000 tonnes with an annual consumption of 2,500,000 tonnes. It is estimated that there is 14,000,000 hectares of unused agricultural land in Nigeria so there is enormous scope for increasing productivity and output. Oyo State, the 'pace setter' State home to the International Institute of Tropical Agriculture, has determined to lead the way.

The Summit will identify specific actionable recommendations for the public and private sectors. In every case we will be trying to identify solutions that are:

• Market focused

• Sustainable

• Innovative

• Open to partnership between local and international businesses

• Easy and quick to implement

If you require any further information, please contact Suraya Farah at suraya.farah@cbcglobal.org or 44(0) 20 7024 8250
HEALTH CONFERENCE, NAIROBI, 12-14 JULY 2009

FIGHT AGAINST HIV/AIDS, TB AND MALARIA

Business Challenge Diseases in the 21st Century!

CONFERENCE SUITE, SAFARI PARK HOTEL, NAIROBI, KENYA

Registration fee $ 500

Under the auspices of the Honourable Dr. Beth Mugo, Public Health and Sanitation, Ministry of Health, Kenya, Chaired by Dr. Andrew J Suleh, Kenya Medical Association, Chairman.

"Promoting partnerships and collaborations between governments, the private sector, International Development Agencies, NGOs, hospitals and national healthcare in the fight against HIV/Aids, TB and Malaria across Africa and globally."

For details and how to register, kindly visit www.corporateafricahealthfoundation.org
Women in Africa and the African Diaspora's Fourth Annual International Conference: Education, Gender and Sustainable Development in the Age of Globalisation

Abuja, Nigeria 3-8 August 2009

The 4th WAAD interdisciplinary conference will provide opportunities for constituencies inside and outside the academy – researchers, academicians, practitioners, policy makers, professionals, and students from various disciplines – to discuss the education of women and girls in Africa and African Diaspora and explore its relationship to sustainable development in a rapidly globalising, complex world. For over a decade, the WAAD conferences have provided the space for women and men of different races, religious persuasions and ideological leanings to engage in vigorous and fruitful debates on issues relating to women in Africa and the African Diaspora.

To register, visit http://www.waadconf.org/forms/registration.php.

For more information, contact Professor Obioma Nnaemeka, Convener, at 001 317 278 2038.
Roi And Evaluation Of Learning And Development 17-18 August 2009 Johannesburg, South Africa Measuring the Intangible in Workplace Learning and Development

It used to be that training did not matter that much. It was just "a good thing to do." But with the current challenging economy and the need to control expenses, many organisations are looking at their training and education budgets to make sure they are yielding a positive ROI.

This programme has been developed to equip HR and training departments with a comprehensive tool box of methods and approaches which will allow them to track and measure the effectiveness of their training against 5 major criteria:

a.. Reactions and experience of the training.

b.. Learning and knowledge gained during the training.

c.. Skills and behaviours acquired through the developmental process.

d.. Changes in workplace performance and job results.

e.. Return on Investment analysis of the training.

Cutting Edge Highlights:

a.. Discover high-impact learning interventions that make a difference

b.. Understand how to measure and evaluate the impact of learning interventions, and determine ROI

c.. Report and present evaluation data to make a case for investment in learning

d.. Review your L&D function to ensure added value and worth

e.. Optimise the return from your external training providers

f.. Assess your organisation's position and prioritise your next steps

About the Trainer:

Garry Platt is a professionally qualified and highly experienced Human Resource Specialist with 25 years of experience in management training. He has extensive knowledge and skills in Organisational Development, HRD Systems and Training. This experience has been gained in a wide range of industrial, commercial and public sectors, leading to a confident and effective approach at both a strategic and operational levels. Some of the companies he has worked with: British Sugar, British Nuclear Fuels, Deutsche Post, DHL, The Body Shop, Aston Martin, Virgin Atlantic Airlines, the Ministry of Defence, Network Rail and many more ...

For details on the event and how to register, kindly visit www.salvoglobal.com or contact Esther Kiong esther@salvoglobal.com
Agribusiness Forum 2009

The Foreign Investment Network is pleased to announce the Agribusiness Forum 2009 scheduled to hold in Tel Aviv, Israel from August 27-28, 2009

Top-level speakers from agribusiness companies, governments, banks, foundations and international organizations will discuss business, finance and investment opportunities for Nigeria's agro-food industry. Multinational companies, international investors and banks as well as local enterprises will present their innovative solutions for Nigeria's agriculture and food industry.

Empowering the Private Sector to Boost Productivity & Growth in Nigeria is the concept of AgriBusiness 2009 and the forum will seek to emphasize the private sector's contribution to development. A tailor made business to business match-making programme will be organised throughout the duration of the conference, allowing delegates to maximise networking opportunities.

The Forum will bring together the Israeli and African public and private sectors to discuss the minimization of investment risk and identify projects and mechanisms to expand their investment portfolio through agribusiness.

Highlights of the Forum will include industry-specific sessions, panels to address cross-cutting issues, such as finance product innovation, marketing, production technology, and certification; as well as networking opportunities. Industry experts will share best practices and the latest trends in the field. By investing two days, you will get up-to-date information about investment opportunities along the entire food value-chain.

Now that the world is facing severe food shortage which has even sparked off protests in some countries, Agribusiness Forum 2009 will encourage the world to take advantage of the favourable business environment on the continent to invest in agribusiness and help tackle the growing food crisis ravaging the world.

Objectives

a.. Contribute to a better understanding of Nigeria's needs in terms of food production

b.. Synergize the role of Nigerians and Israelis private sectors in accelerating Africa's agro-industrial development

c.. Showcase successful Israel agro projects that contribute to a sustainable growth

d.. Strengthening the linkages and capacity of Nigerians in international agribusiness

a.. Please make plans to join your colleagues August 27-28 to learn from leading economists, journalists, consumer food experts and more as they share strategies on how you and your business can prosper in today's global market.

b.. For speaking opportunities, exhibition, sponsorship and participation

Please contact info@finmagazine.com, mo.mag@finmagazine.com

Tel: +234 706 306 27 21 or visit; www.foreigninvestmentnetworks.com
Africa Investment Forum 2009 September 21- 22, 2009 Midrand, Gauteng, South Africa

African Linkages for African Growth: Promoting New Trade and Investment Flows

The Commonwealth Business Council (CBC) is pleased to announce its flagship Africa Investment Forum (AIF) will be held on 21st-22nd November in Johannesburg, South Africa. The Forum provides a platform to bring investors and projects together to enhance African trade and investment, and to build new business partnerships. The focus of this year's Forum will be on strengthening linkages between African economies as a means to promote new investment.

In addition to showcasing African investment opportunities and intra regional trade, the Forum will feature specific discussion on key economic sectors including:

a.. Global Financial Crisis and Africa

b.. Accelerating African Investments in Africa

c.. Trading in Single SADC Market

d.. Natural Resources Contributing to Sustainable Development

e.. Strengthening Transport Infrastructure

f.. Improving the Investment Climate

g.. Supporting SME Growth

h.. Business Action Against Corruption

If you require any further information, please contact Suraya Farah at suraya.farah@cbcglobal.org or 44(0) 20 7024 8250
PRODUCTS AND SERVICES

Imperial Leadership Academy

With a focus on cutting edge quality knowledge, excellence in customer service and good value for money, Imperial Leadership Academy specializes in customised classroom training solutions for banks, insurers and financial institutions. We seek to learn about the needs of the client, the goals, the background of the participants and in particular the markets within which the participants seek to operate. Our courses, materials and case studies reflect the changes that the clients face. Our training is focused, practical and results-oriented to enhance the application of learned concepts by the participants in their daily work life.

Imperial Leadership Academy delivers cost-effective in-house training programmes that allow you to determine the content, depth, attendee size, structure, length and sequence of the training within the security of your own firm and premises, in addition to public courses and half-, one-and two-day training workshops and seminars in key risk areas for your staff on a topical basis.

Contact the London office at +44 (560) 156 9887

Contact the Lagos office at +234 (1) 7608 341

Or email any enquiries to info@imperialleadershipacademy.com
www.icilome.com Le portail togolais par excellence

Vous trouverez tout sur icilome - la presse togolaise , annonce , emplois , Diaspora , affaires , sondage , finance , immobilier , culture , etc.
www.souslemanguier.com

Les actualites d'Afrique - politique , sport , economique , finance , societe , humanitaire , etc
Tuma Pesa Nyumbani (TPN)

WELCOME, KARIBU

Tuma Pesa Nyumbani (TPN) is a special service designed with all the options necessary to meet the needs of Kenyans and friends of Kenya living, working or studying in the Diaspora.

The unique idea of TPN is a combination, which embraces advances in technology along with the identified needs for an affordable money transfer service. This ensures that hard working Kenyans are not exploited financially when sending money back home (Nyumbani).

We are proud to be the one of the first international money transfer services to have encapsulated the option of online banking and Debit & Credit card transactions. Being a market leader TPN pledges to make sure that all our services are fast, simple, safe, direct, convenient & 100% guaranteed.

Although we are advancing into the technological era TPN is also aware not to isolate our customers who are more comfortable with the more conventional methods. We offer a direct banking system where the sender calls TPN to get the daily rate. Thereafter the caller will deposit the money and then TEXT TPN the transaction number on the banking slip, their details, those of the receiver and the method they would like their receiver to get the money.

We know that time is money so we have ensured you have a wide variety of choices of high street banks & building societies to send your money from. Please refer to our listed banks & accounts. This service is AT NO EXTRA FEE.

TPN's main aim is to uphold your trust and we therefore ensure security of your online and credit transactions with PayPal. We are deeply committed to keeping your personal information secure. We use SSL-encryption from VeriSign to protect data from theft or interception while being transmitted. The TPN site has a VeriSign secure sockets layer (SSL) certificate enabling secure e-commerce and communications for the TPN site.

Our on site debit & credit card option means that you can send money from anywhere in the world using TPN.

TPN offers the quickest and easiest ways for families & friends to send money and stay connected anywhere in Kenya. We are grateful for our customers and are keen to build on our relationships over the years.

Sunrise Development Ltd

www.tumapesanyumbani.com
EC-UN Joint Migration and Development Initiative

The EC-UN Joint Migration and Development Initiative (JMDI) host the Migration for Development Community of Practice. The JMDI is a joint initiative between the European Commission and the United Nations, which supports Civil Society Organizations and Local Authorities working in the area of migration and development, and seeks to identify what makes migration work for development. Implemented by UNDP in collaboration with IOM, ILO, UNFPA and UNHCR, the Joint Initiative is working to 1) set up and reinforce networks of groups working on migration and development and 2) identify good practice in this field and share information on what actually works at the local and international level among those who are active in this area, with a view to 3) feeding into policy-making on migration and development. More > Visit www.migration4development.org
Various Consultancies and Job Opportunities across Africa, for details and how to apply for individual posts, kindly visit www.findajobinafrica.com

To advertise your vacancies and reach a potential audience of over 1.7 million candidates inside and outside Africa kindly contact Claire Thompson claire@findajobinafrica.com

For details and view many more kindly visit www.findajobinafrica.com

Disseminated by AfricaRecruit www.africarecruit.com and www.findajobinafrica.com
FORWARD TO A FRIEND





WEBSITES :

www.findajobinafrica.com - Job Vacancies and Opportunities in Africa
www.africarecruit.com - Events, Reports, Newsletters
www.africadiaspora.com - Africa Diaspora Investment
FORWARD TO A FRIEND





To protect yourself against unscrupulous and scam users kindly validate any job that you will like to apply for from our website by visiting www.findajobinafrica.com and doing a search of the job title and the reference number. Also visit the website of the recruiting organisation and ensure that the response e-mail address is the same as the website address of the organisation you are applying to as all reputable organisation do have a website with full contact details and references to validate. Example if jobs advertised by Findajobinafrica the e-mail address will be xxxx@findajobinafrica.com

www..findajobinafrica.com www.africarecruit.com www.africadiaspora.com



IMPORTANT - CONFIDENTIAL:

The information contained in this e-mail is intended for the person to whom it is addressed and may contain confidential and/or privileged information. The contents of this message may contain personal views which are not the views of the AfricaRecruit, unless specifically stated. You should not copy, retain, forward or disclose its contents to anyone else, or take any action based upon it, if it is not addressed to you personally. If you have received this e-mail in error please contact the sender immediately.